Write about Poker. Read about Life. PokerWonks, the Poker Blog Community.
Date: Sat, Mar 13, 2010

This blog is now located at http://qlbrodie.blogspot.com/.
You will be automatically redirected in 30 seconds, or you may click here.

For feed subscribers, please update your feed subscriptions to
http://qlbrodie.blogspot.com/feeds/posts/default.

Date: Thu, May 28, 2009
I'll be tweeting as quietlion. My first event will likely be the $10k mixed tournament on June 4.
Date: Thu, Apr 16, 2009
They say you can tell a Chinese restaurant is good if there are Chinese people eating there. Me, I thought the Michelin star hanging on the wall at Wing Lei was a better clue.
I was entered in the million-dollar Baccarat tournament at the Wynn and I had made it to day two along with a few dozen others, one of whom was right ahead of us getting seated. I caught the eyes of Diane, my girlfriend, and Noreene, her BFF. I don't like to talk about race but they were the kind of girls you didn't have to ask if they liked Chinese food before you made the reservation. Bruce, our friend from tha OC who flies his own plane, was with us as well.
"You see that guy?" I whispered. They looked at his back. "That's Johnny Chan," I said. "Johnny Fucking Chan."
"Doctor!" said Bruce. The girls stared blankly.
"He's a famous poker player," I said.
"Have you played with him?" asked Bruce.
"Yup," I said. He knocked me out of a big tournament when his Kings beat my Jacks. Johnny Fucking Chan."
"Doctor!" said Bruce.
"Why do they call him that?" asked Diane.
"Oh, they don't really. It's from a movie," I said. "Rounders. He was in it. He won the World Series two years in a row." Back to back baby, and the second win, against Erik "Stretch" Seidel, who will forever regret his decision to wear that funny orange visor, was immortalized in the movie. No one will ever do that again. Not even Jamie Gold.
Me, I never had much luck in poker tournaments. Baccarat was more my game. I had made the final table at the Wynn baccarat tournament back to back the last two times but had come up short: the first time I was the first one out, making a move that failed. The second time I had a chance to win it all when I bet Banker and Tie on the last hand, but when Player drew a third card to make nine, my third card came up one short and I lost by a pip.
The hostess took us to the VIP table in the corner and I told the girls to order anything they wanted because I was RFB. Diane giggled and ordered a lychee martini. I ordered pink Champagne on ice and the geoduck two ways followed by the three-cup cod, probably the best Chinese dish I've ever had. "The geoduck is $138! Doctor!" said Bruce.
"It's good to be RFB," I said. Diane giggled.
Noreene had her camera out and was looking around the room. "You want a picture with Johnny?" I asked. She grinned and nodded. "Check out the private room," I said. She and Diane hopped up and found Johnny in the private dining room. He posed for a photo and the girls had their celebrity fix for the evening. "He wanted us to pose in front of the dragon," Noreene said, showing me the photo.
Diane said, "Johnny Fucking Chan."
The next morning I once again made it to the semifinals and, with some luck, to the final table for the third time in a row. Diane had been sweating me. It was five o'clock but I held off on the martinis as I wanted my head clear for the final table. Diane wanted something sweet so I suggested cookies or candy from the minibar. "Those things scare me," she said. "What if you get clumsy and knock all the stuff off? Do they charge you for everything?"
"Well, I suppose they might, but you could get it reversed. Besides, I'm RFB." She giggled. Then she wrinkled her brow.
"What does RFB stand for again?" she asked.
"Complimentary Room, Food, and Beverage."
"Oh!" she said. "I thought it stood for Richard Fucking Brodie!"
I took my seat at the final table and maneuvered my way into the lead going into the final hand. When the bets were revealed, I saw that once again, I needed Banker or Tie to win it all. The player's cards were faced: a natural nine. I squeezed and bent the banker's cards for all they were worth.
Eight. I lost again.
I ordered that martini. After all, I was RFB.
Date: Tue, Aug 5, 2008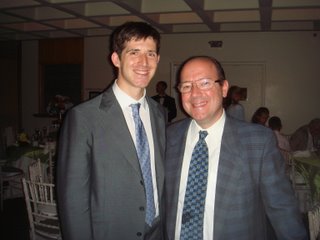 Last time I flew to the City was Sept. 21, 2001 – ten days after 911. But since I was flying east anyway for the wedding of Matt "HOSS_TBF" Hawrilenko in Princeton, NJ, I took the opportunity to sandwich two slices of New York rye around the meat of my trip.


I like to spend as much time with Hoss as I can in hopes he'll accidentally let slip some information I can use to improve my preemptive bluffing frequency in multi-street games. OK, so he's also one of my favorite people in poker. But then everyone loves a winner. Even if he got beat by a bot.
(Hoss barely lost the second of two 500-hand matches to the Polaris program but beat the bot handily in the first such match. I point this out because Matt enlisted his entire extended family, including his new inlaws, to badger me until I unsullied his reputation. So there you go. You try to do someone a favor by advertising he's a fish, and this is the thanks you get.)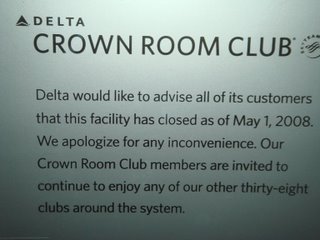 I used up the last of my Delta miles to fly business class to JFK. The airlines have fallen on hard times. Delta closed its Crown Room in Seattle, as I discovered when I took the elevator up to where it formerly was. Fortunately, terminal A had a stained-glass lion for me to look at while I waited for the on-time boarding.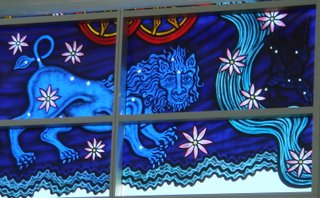 Meal service in the forward cabin of the 757 was one tray of food followed by ice cream for the six-hour flight. My personal entertainment system didn't work, but if it had, there would have been a nice selection of movies and TV shows to watch. The one high point of the business-class service was a nice selection of not only premium liquors, but also four specialty cocktails. I had a pomegranate martini toward the end of the flight. We landed early.

I had booked the W Union Square for the first night, the same hotel I stayed in right after the attack. They upgraded me to a Spectacular corner room (that's actually what they call it at W hotels – I believe the worst room is Wonderful) because of my Starwood Gold status. The front desk had a bowl of complimentary green apples and in the morning water infused with herbs and fruit. Parking was a whopping $60/night.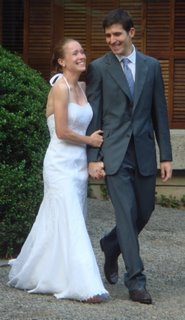 I dropped the bags and hustled over to A Voce, where I had an 11pm reservation. This casual Italian restaurant came highly recommended for fabulous food and service and did not disappoint. The wine list featured Italian selections and I got a beautiful $75 bottle of Sicilian Nero D'Avola to go with the octopus appetizer and pork chop entrée.

In the morning I headed out to Princeton and checked into the Nassau Inn, a charming hotel in the heart of town. Matt and Emily, his fiancée, hosted a barbecue in a beautiful old house by a pond. Amazingly, no poker was played, although I did manage to have my team squeak out a win over a couple of bocce-ball pros. I was trying to hustle them into a croquet match because they probably didn't know about my 2003 bracelet at the World Series of barbecue, when I beat Ted Forrest heads up for the championship. Never having played bocce ball before, I had to rely on my natural athletic ability, which fortunately came through.

Hoss got hitched the next afternoon in a beautiful atheist ceremony. It's exciting to me to live in a time where people don't have to pretend to believe in fairy tales in order to keep from being killed by mobs. Well, it hasn't quite spread to American politicians but I'd lay odds Obama doesn't believe in the man with the beard even if it would be political suicide to admit it. The community of winning poker players is full of atheists. It's tough to be a winning poker player if you like to believe in magic instead of reality.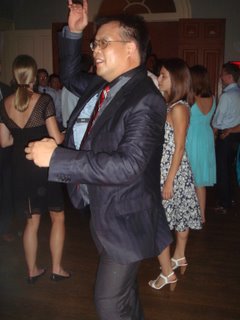 Matt and Emily served a nice Cabernet Franc at the reception but with blueberry martinis available it was hard to decide on a libation. Given the geeky circle of friends, at least on the groom's side, the happy couple provided foosball, air hockey, and a crane machine all set on free play. It's rare for a wedding reception to be more than a heartwarming celebration of love and friendship, but this one was actually fun. Party animal Bill Chen, winner of two WSOP bracelets and co-author of
The Mathematics of Poker
, let loose on the dance floor as usual, showing why he's always the favorite of the ladies.

The next morning, after a Matt & Emily slide show and a quick discussion of quantitative analysis in hedge funds with the Susquehanna crowd, I returned to Manhattan for one more night, this time in the Westin Times Square. I love large, impersonal hotels and Westins fill the bill (although now that they are entirely non-smoking they aren't an option if I'm in the mood to have a cigar in the room). Once again I got upgraded to a corner room and parking was only $48.
I had tickets to the matinee of Xanadu, a 90-minute romp based on the really great score from the really bad Olivia Newton-John movie. I had great seats but I didn't realize you could actually sit on the stage, which would have been fun. Broadway shows have gravitated toward the 90-minute Vegas standard, presumably in deference to shortened attention spans in today's audience, including myself.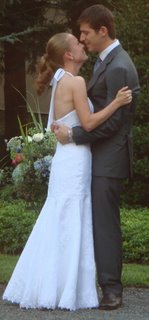 Every time I go to New York I like to have a drink at the rotating bar at the Marriott Marquis, which my best friend Steve introduced me to years ago. The rotating bar used to be on the eighth floor. While there is still a bar there, it no longer rotates. Fortunately, the View lounge on the top floor does! I had a couple Woodford Manhattans and toasted Steve as the city turned about me for an hour.

For dinner I had booked Aquavit Café, a traditional Swedish restaurant featuring lots of smoked fish and infused spirits (aquavits). My favorite infusion was the horseradish! Dinner was delicious and the young waiter was charming and gave excellent recommendations without being either fawning or brusque.

I was booked on the 8pm flight back to Seattle but I got to the airport at one to stand by for the 4:40 flight. Delta wouldn't let me check in until six hours before flight time, but I had a brilliant idea: I whipped out my laptop and Verizon card and checked in online, which you can do 24 hours before the flight! Then I went to the kiosk and tried to reprint the boarding pass. No dice! I couldn't even reprint until six hours before flight time. Foiled again. I played Scrabble online until two, then got the boarding pass, stood by for the 4:40, and went to the Crown Room.
Delta's standby and upgrade system is completely automated. A monitor at the gate displays the waiting list in order and notifies you when you clear. The flight was delayed 90 minutes and I sat at the top of the standby list until just before departure when I heard my name being called. Success! I got a seat with a working entertainment unit and was on my way back home.

The meal was once again a one-tray affair but I salved my disappointment with several Herradura margaritas. After the meal, the flight attendants ignored the 26 business-class passengers for about three hours but grudgingly served drinks if I came up to the galley and begged. They did come around with water just before landing. I guess they stopped calling it first class for a reason: it was definitely not a first-class experience.

The early flight, although late, gave me an extra few hours of sleep before leaving in the morning for Vegas and BARGE. I watched the late Seattle summer sunset, imagining Hoss and Emily riding off into it.
Date: Thu, Jul 10, 2008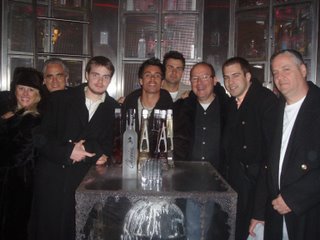 I had images of scientists rushing Einstein's dying brain to freezer storage, saving his wisdom for future generations who, they hoped, would have the technology to restore its function and make his incomparable intellect immortal.


I had invited many of the world's top heads-up limit hold 'em players to Red Square in Las Vegas for a drink in their famous ice room. Heads-up games are played almost exclusively online, since brick-and-mortar poker rooms rarely are willing to spare a dealer for just two players. So although I knew many of these guys' screen names and even human names, I'd never met most of them in person until now. (l to r: Heather, QsDaddy, TheComplainer, SallyWoo, RobLP, Quiet Lion, KPR16, pmv55)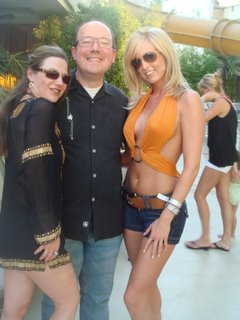 Red Square issued us all fur coats and let us do as many shots of Chopin as we wanted inside the freezer room with Lenin's head encased in a block of ice. We shivered enough to soak up the atmoshpere and then retired to the main lounge area.
Head's up limit hold 'em is my favorite game, mostly because you get to play almost every hand and you see a showdown almost half the time. This satisfies both my thirst for action and my curiosity.
It also is the favorite game of researchers at the University of Alberta, where they continue to improve Polaris, their poker-playing program. In fact, they've improved it to the point where it can hold its own against the very best players in the world. Last week it beat Matt "Hoss_TBF" Hawrilenko, considered by some to be the best in the world, over 500 hands. Now Hoss will be the first to tell you that 500 hands doesn't prove anything. But he said he was impressed by the bot's skill.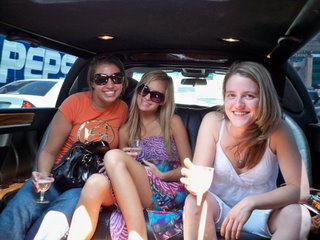 Full Tilt Poker recently caught around 20 accounts using bots, or artificial-intelligence programs, to play heads-up limit hold 'em on their site. Because it was a violation of the terms of service, they seized all their funds and distributed them to the victims. Reports are that over $500,000 was seized. I can't imagine the perpetrators won't modify their programs and try again. This is a real heads-up for human poker players.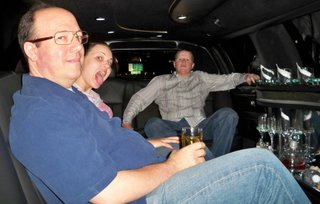 I entered a couple more World Series events but didn't cash. I decided to skip the main event in favor of enjoying summer in Las Vegas. I like hanging out by the pool and cruising the Strip in a limo more than spending 14 hours a day playing poker tournaments.
Can you blame me?
Date: Fri, Jun 20, 2008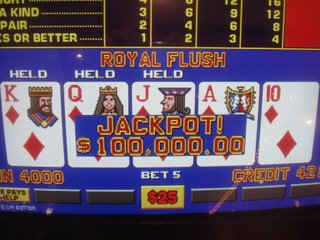 People keep asking why I came to Vegas. The World Series combines so many things I hate: slow, boring games; bad food; long hours; and losing six out of seven times even if you're a great player. But everyone knows why I came to Vegas. For the waters.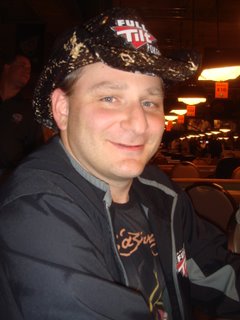 Although I had some luck in the casino, I failed to cash in the $10,000 limit hold 'em championship at the 2008 World Series of Poker. I did make it to day two despite being sandwiched in between Brandon Adams on my right and eventual winner Rob Hollink on my left, then being moved to the right of Andy "The Rock" Bloch.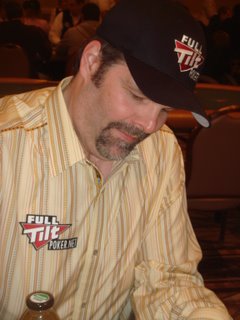 On day two I faced the rogue's gallery of Howard Lederer, Erick Lindgren, and Joe Cassidy before Barry Greenstein showed up to round out the table. Nevertheless, I survived until the table broke but then got it all in with Ace-Queen against Ace-King and went busto about 3/4 of the way though this tough field.
I did manage to double my starting stack, but other than that the high point of the event was figuring out I could use the $10 food comp that Harrah's provides each $10,000 entrant to exactly cover a chicken parmesan sub and two bags of smoked almonds.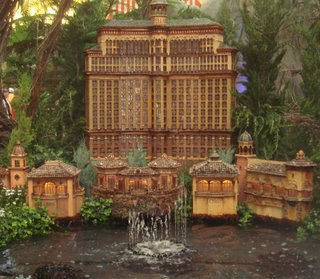 Desperate for good food, I cruised over to Bellagio for the tasting menu at Michael Mina, washed down with a 2006 Ken Wright Oregon Pinot Noir. I'm not loving the 2006 vintage compared with 2005, but I've never had anything from Ken Wright that wasn't good.
Michael Mina (formerly Aqua) is inside the conservatory, where I imagine Professor Plum killing someone with the candlestick every time I walk through the beautiful, fragrant, ever-changing floral display. This time they had a very clever mini-Bellagio complete with fountain show. Stop by and see it if you get the chance. It's one of the best free things to do in Vegas.
I'm planning to enter the $1500 mixed hold 'em event on Sunday.
Date: Tue, Jun 10, 2008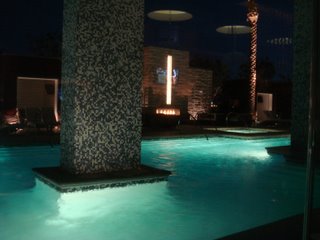 The only way to beat Vegas is to hit and run. That's why I never moved here. If you spend too much time in Sin City it grinds you down, wears you out, and eventually absorbs you, stealing your soul and making you part of the jaundiced, hungry money machine. But if you hit and run you can get in, make a quick score, and get out before it bites you back. Sometimes you get bit anyway.
This was a nine-day trip to the desert playground, which was pushing it. I took five nights at the Palms, the closest decent hotel to the World Series, and then planned to move to Wynn, my favorite place in town, where they were giving away six Mini Coopers in a drawing Saturday night.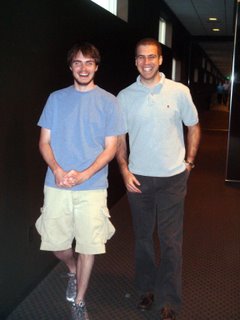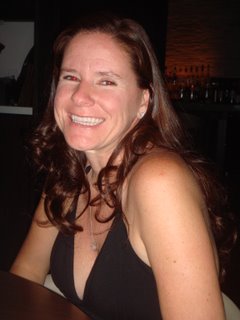 But while still at the Palms, I tried the new restaurant at Palms Place, Simon, along with Kyle, Crazy Mike, and Robyn. There are so many gourmet restaurants in Vegas it's hard to gush about food but it was top notch. What really stood out, though, was the room. Intimate and glass walled, it sat surrounded by the private Palms Place pool. The waiter talked Crazy Mike into ordering his filet medium instead of medium well, and we relaxed as we watched the pool water lap onto the deck in the June desert wind.

I had no luck at the Palms, nor at Wynn when I moved over there. The good news was Nichole decided to fly down for the weekend, but the bad news was I picked up a nasty case of food poisoning that seemed to linger on for days. I dragged myself to the Rio to play the $1500 limit Hold 'Em event but never got anywhere. The drawing for the cars was Saturday night and I could barely get out of bed but I showered and dressed and went down to the VIP cocktail reception with Nichole to see if I won.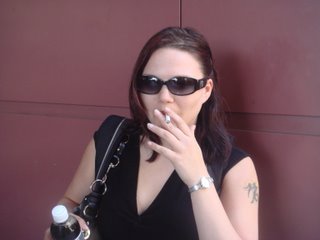 When we got there we discovered they had secretly transformed the drawing into a game show. If your ticket got drawn you had to play "concentration" and match two numbers on a big board to win one of the six cars. If you missed twice they would draw someone else. I didn't get picked in the first six, or the next four, or the next two. Finally there was one car left and they drew my name. Nichole said, "16 and 12! 16 and 12!" The room was spinning as I walked up to the stage. I decided to go for the drama. "Well, I'm pretty sure one of them is 16." I said. Then I waited. I wondered if they'd call the clock on me. Finally I said, "How about….12!"
The room erupted into mixed cheers and boos as they revealed the final car. I took the cash option and used it to pay off a marker.
Still not 100% I flew back to Seattle to recover for a few days. Next event is the $10k limit Hold 'Em championship on Sunday June 15.
Date: Tue, Jun 3, 2008
After chipping up my starting 10k to 17,000, I busted out of the $5000 mixed Hold 'Em event shorly after the dinner break. Sandwiched between Ted Forrest and Shannon Shorr on the right and Gavin Smith on the left, I fell prey to the most active player at the table and made a loose call with Ace-Eight of Clubs when he limp-reraised me all in with pocket Queens. I thought I had a big edge in the limit portion of the event but It's been a long time since I was at the top of my NLHE game, playing several tournaments a day online.

Nevertheless, this is the biggest social gathering of the year for poker players, and although my buddy Matt "HOSS_TBF" Hawrilenko busted out early, he waited around to hang with me at the dinner break. Matt may be the best heads-up limit Hold 'Em player in the world, which poses a dilemma for him as many of his friends also play that game for high stakes and he doesn't want to teach us how to beat him but neither does he want to be rude and dismissive. This leads to conversations such as:

QL: "How do you play opponents who frequently check-raise dry flops with air?"
HOSS: "Very carefully!"
QL: "And you counter that by...?"
HOSS: "Incredibly clever tactics!"

QL: "I've decided I have no idea how to play monotone flops."
HOSS: "If we had four-color decks that would solve the problem completely!"

But it's impossible to get mad at him because he's the world's nicest guy, plus he's a head taller than me, 20 years younger, and an expert in martial arts.

Ted and Shannon were discussing whether they'd rater have a .38 revolver versus a grizzly bear or a knife against a tiger. I suggested I'd rather have the bottle of suntan lotion against the Hawaiian Tropic model because even if I didn't survive -- what a way to go. Ted scowled and said that wasn't one of the choices. I said, "Sir, if you ever want to be a winning poker player you must learn to think outside of the box."

I may play the shorthanded NLHE event on Thursday, but if not I will likely play the $1500 limit Hold 'Em event on Friday.
Date: Mon, Jun 2, 2008
Although I've been playing far fewer poker tournaments than in the past, having decided they interfere too much with dinner, I'm now in Vegas to play a few events in the 2008 World Series at the Rio. Tonight I will attempt to overcome Harrah's 6% commission and cash in the $5000 mixed Hold 'Em event. Levels will be one hour each, playing limit Hold 'Em the first half hour and no limit the second. Cards are in the air at 5 p.m.

Last night I had dinner with Kyle and his family at Nove Italian restaurant at the Pams. They sat us at one of the large tables overlooking the Strip with gentle flames flickering at the base of the windows. The whole branzino (European seabass) was fabulous. We started with the 2004 Joel Gott "4 Sarah's Metier" cabernet. Gott makes one of the top inexpensive cabs so I was curious to taste a higher-end bottling and wasn't disappointed: it was fruity, well balanced, and finished well. Then we moved on to the 2005 Testarossa Sanford & Benedict pinot noir. I haven't had a California '05 I haven't liked and this one was great: full enough to follow the light cab but as fruity as Hawaiian Punch but without the sweetness. I'll miss them when they're gone.

In gambling, like sports, you're either on a hot streak or you're due.

I'm due.
Date: Sat, Apr 26, 2008
My friends are often surprised when I tell them my #1 political issue is repealing (drug) prohibition. Since they know I don't do anything stronger than Tanqueray 10, they are often puzzled. This piece in the LA Times outlines the arguments well.
Date: Sat, Jan 5, 2008
80% Mike Gravel
78% Dennis Kucinich
73% Barack Obama
71% Chris Dodd
69% Bill Richardson
68% Hillary Clinton
68% John Edwards
66% Joe Biden
40% Ron Paul
40% Rudy Giuliani
34% John McCain
34% Mitt Romney
28% Mike Huckabee
23% Fred Thompson
22% Tom Tancredo

2008 Presidential Candidate Matching Quiz
Date: Fri, Jul 27, 2007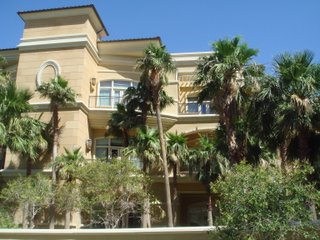 Once the Harrah's bigwigs finally figured out I wasn't some kind of criminal mastermind I was free to play at the 2007 World Series of Poker and even get a room at the Rio, although not quite up to the standards of the Palazzo Suites they put me in last year.

I planned to get the Rio room if I made it deep in the main event, but other than that I was staying at the Wynn, where I have a special deal: I don't win and they don't kick me out.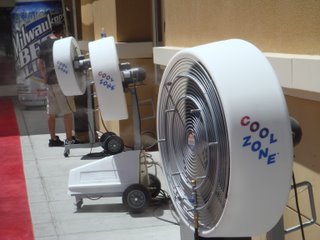 The big improvement this year wasn't Harrah's doing: Nevada made smoking indoors illegal, except for casinos, bars, strip clubs, and brothels. As a result, the noxious clouds were even farther from the action than last year. People were supposed to go outside to smoke, and largely did. They even had big fans to blow the smoke away.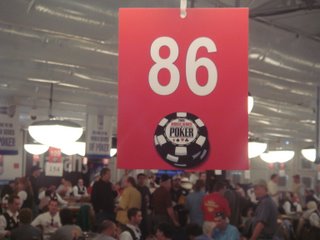 I never did get a straight answer as to why Harrah's 86'ed me. As soon as I got to talk with Tom Jenkin, who is in charge of all the Vegas properties, he immediately realized it was a mistake and reinstated me within hours. My suspicion is that some managers within Caesars Palace simply did not want to risk my hitting even more big jackpots and making their numbers look even worse.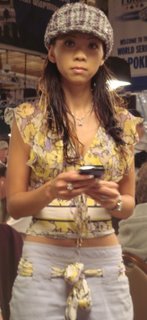 But really, to send me a certified letter warning me off the premises when I'd been coming to Caesars Palace for 25 years without a problem -- it just boggles the mind. But Tom assured me nobody thought I did anything wrong and if I hit four more royal flushes tomorrow, I'd be perfectly OK with him.

So that being settled, I went on to enter 10 of the preliminary events. I played with some cool people, including Ross "Rocky" Boatman, Liz Lieu, and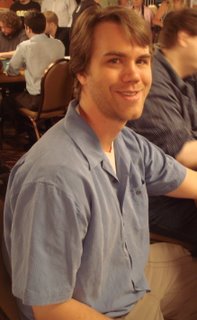 Andrew Prock (right), author of the excellent PokerStove software. We had met last year at BARGE, but previously had exchanged posts on rec.gambling.poker in which he had referred to me as a "rich dilettante." I corrected him, as I prefer to be called a rich, arrogant dilettante, and he graciously assented.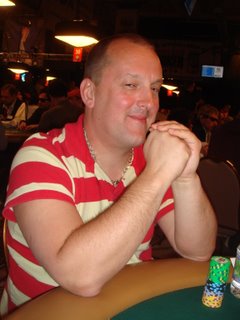 Andrew is a pleasure to play with, witty and trenchant. I hope to be on his left next time.

The tournaments were grueling. I like to play poker for a few hours, not all day and all night, but the schedule demanded play until two or three in the morning every day, provided I was still in, which I often was.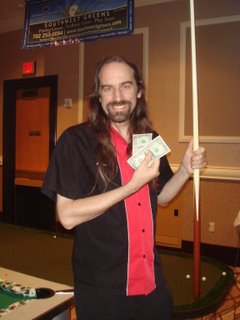 I don't know how guys like Chris "Jesus" Ferguson, shown here after winning a high-stakes pool match, have done it year after year. Frankly it reminds me of my time at Harvard: I loved being around the people if only I didn't have to put up with all those damned classes.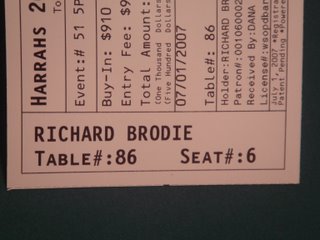 Other than an amusing table assignment one day (left), most of the events felt more like drudgery than fun. Of course I'm sure if I ever made a final table that would be a lot more exciting than busting out after 10 or 15 hours of play with nothing to show for it but a $10 food comp.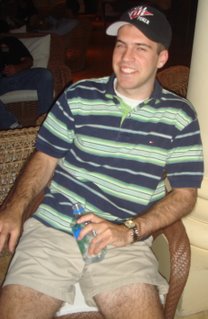 I staked my 21-year-old buddy Kyle Ray to his first WSOP event, the $1500 mixed hold 'em, and he brought home a nice cash. He's a very serious student of the game and I expect great things of him.

What I was looking forward to the most was hanging out with the math team: Bill Chen and Jerrod Ankenman, who co-authored the bible of game theory as applied to poker, The Mathematics of Poker, Terrence Chan, and Matt Hawrilenko. These guys are all phenomenal poker players and a lot of fun to hang out with.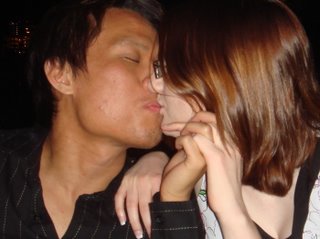 I had dinner with Matt, Terrence, and Terrence's new girlfriend Laren at the Country Club at Wynn. Country Club may be my favorite restaurant in town now.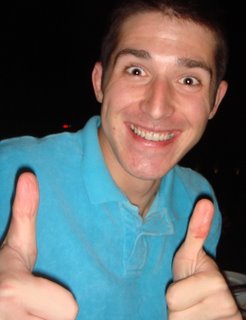 They do the steaks charcoal-broiled with a salt rub, but given that I'm eating healthy these days I appreciate the one or two fish dishes they always offer. The service is personal and attentive and the wine list, like the menu, is small but very high quality. We had the last bottle of the Penner-Ash Syrah. Matt approved.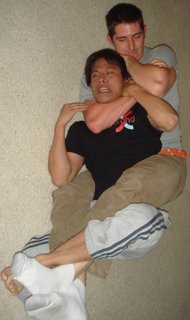 A few days later I made it over to the math team clubhouse, where I hoped to learn something about poker but instead played pool and watched Matt and Terrence engage in the manly sport of wrestling.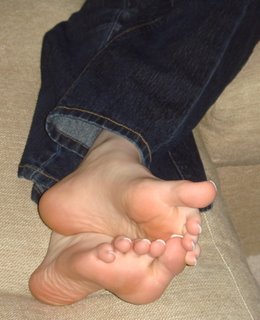 I met Mike Fong, who was sharing the house with the math team although he hadn't yet established credentials as lofty as the others. We bought a chip set from the Rio and practiced HORSE, showing our cards at the end of each hand for commentary. I got a nice shot of Laren's feet.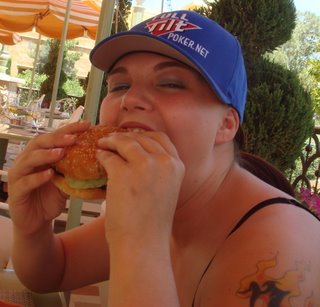 The main event was almost a non-event for me. I came within a few chips of doubling up and then ran out of luck, busting on the first day when 3/4 of the field hadn't even started playing yet. That gave me the weekend to relax and unwind at the Wynn before I flew home.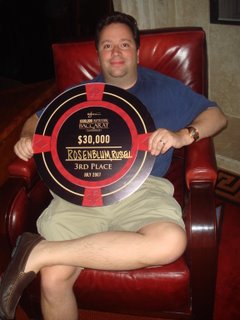 The more I stay at the Wynn the more I think it's by far the best hotel in town, not just for the facilities but for the excellent service top to bottom. Nichole (above right) enjoyed her first Kobe burger on the patio at Tableau while I entered an invitational Baccarat tournament for casino high rollers.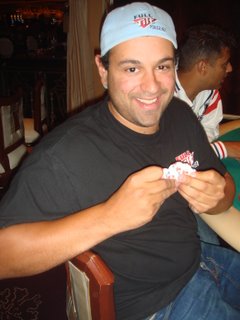 I bombed out but Russell Rosenblum (left), one of the smartest and nicest guys in poker with one of the sweetest and prettiest wives, took his beginner's luck into third place for a nice chunk of change.

But the big surprise was the winner: Full Tilt pro Roland de Wolfe (right), whom I didn't even know played Baccarat. Roland is a frenetic, upbeat guy you just want to root for. He later tried to invite us to his birthday party but the elevator doors closed before he could tell us the details, almost snipping off his nose.

Tournament poker can be a road to heartbreak. Bill Chen told me a great player can expect to cash in one out of seven tournaments. If a bad streak comes, that can easily mean 20 events in a row without cashing. The math team didn't do so well this year. Last year Bill won two bracelets. Why do we do it?

I guess it's fun.

Two more pics of Nichole...she cleans up nice.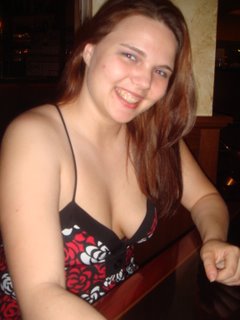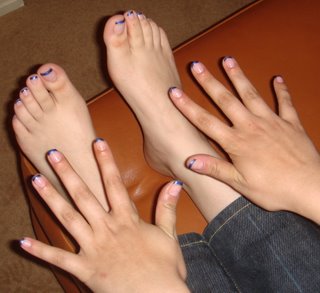 Date: Fri, Jun 22, 2007
I just finished my seventh event of the 2007 WSOP, the $3000 limit Hold 'Em. I made the money but then ran out of luck and cashed in 21st place for $7761. At my last table I played a pot against Phil Hellmuth, who still didn't know my name after four years. I reraised his early-position raise in the small blind with QQ and he raised my flop bet on a board of King-rag-rag and I just called, intending to call him down. He checked behind on the turn and I checked the river hoping he would bet. He didn't and showed Ace-Queen, well played to lose the minimum and get the free card.
Date: Mon, Jun 11, 2007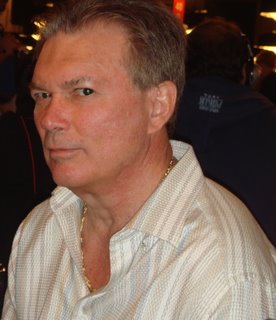 I played my first event since Harrah's lifted the ban, the $5000 Limit Hold 'Em championship. Despite having Andrew Prock on my left and Ted "I have a straight" Lawson two to my right, I built my starting stack of 10,000 up to 24,000 before going cold toward the end of the day.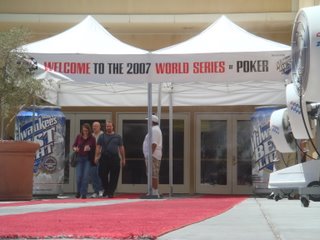 I advance to day 2 with slightly more than my starting chips, 10,600. Barry Greenstein and Mimi Tran are at my table.

It would make a hell of a story if I won this one!